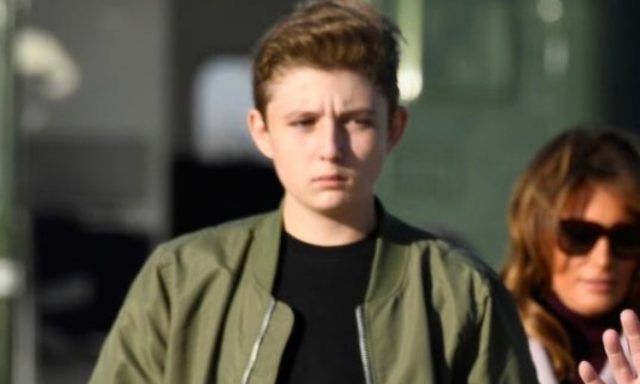 Barron Trump is a wonderful person. At only thirteen years old he has dignity and grace, and I read that he has a very high IQ. Barron is outstanding, and President Trump wants his son educated.
While every president's child over the past 35 years has attended Sidwell Friends, the White House has confirmed Barron is attending St. Andrew's in Potomac, Maryland. He is the first presidential child to do so. In a statement, Melania praised the school for "its diverse community and commitment to academic excellence."
He needs to be smart because leftists are constantly attacking him!
The same case was today as Barron Trump's height was the main factor because he was trending on the internet but the far-left liberals decided to us this occasion to attack him!
Today someone has towered over President Trump literally and figuratively. Surprisingly, it's none other than his son, Barron Trump. Born in 2006, Barron is Trump's youngest son and his only child with Melania Trump.
Recently, pictures of Donald Trump, Melania, and their son, Barron surfaced on the Internet after the trio was rushed to a secure bunker, and people couldn't stop talking about the young boy's height. At just 14, Barron is much taller than his dad. A quick Google search reveals he is taller than both his father and mother, which makes him at least over 6'2". However, people on Twitter couldn't help but exaggerate it.
Recent photos of Barron Trump:

His height stirred one too many sarcastic comments and witty tweets. Apparently, it originated with a tweet that read, "So no one was gonna tell me that Barron Trump is not only alive and well, but also like 8'1." It soon caught much attention and became a full-fledged trend. "Donald Trump turned Barron Trump times into a 7ft tall Antifa fighting supersoldier during #COVID19 quarantine. #ResignNowTrump," one posted and another said, "People better start watching what they say about his Dad, not only do I hear that Barron Trump trained under Chuck Norris, but the kid is now 7'8 and bulletproof."
Starting a rumor that this is Barron Trump. https://t.co/S1V73EKJR4

— Dave McNamee (@DontFollowDave) June 4, 2020
If Barron trump is secretly an antifa super soldier and plotting his fathers demise I will start going to church every day https://t.co/qrVbjgBSYM

— (A͓̽•͓̽C͓̽•͓̽A͓̽•͓̽B͓̽) ₛ 🆂🅰🆁 (@Toyota__Corolla) June 6, 2020
Barron Trump is Shawn Bradley's love child and you can't convince me otherwise pic.twitter.com/69L1W4bIKV

— District_Quarentined_Stache 👨🏻 (@District_Stache) June 6, 2020

Trump's eldest son, Don Jr. is 6-foot-1, while Eric Trump is 6'4″.
So officially we have the tallest member of Trump's family.
Whatever the left is talking about Barron they can't deny the fact that he is a well educated and adorable kid!