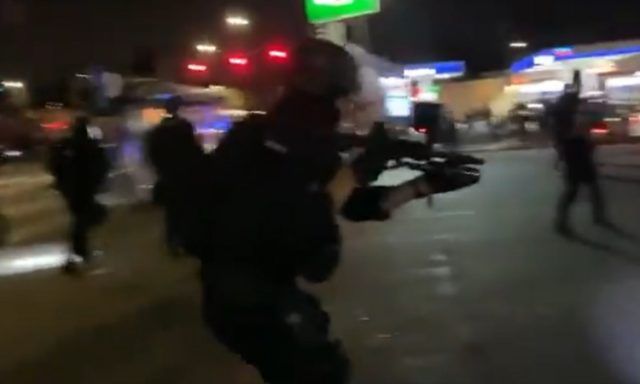 Once hailed as one of the most livable U.S. cities, Portland, Oregon, is grappling with an uncertain future as it reaches a stunning benchmark: 100 consecutive nights of racial injustice protests marred by vandalism, chaos — and the killing of a supporter of President Donald Trump.
Police in Portland has made multiple arrests last night.
A few hundred demonstrators met at the city's Kenton Park on Friday before making their way to the Portland Police Association building, where police warned protesters to stay off the streets and private property.
"Yes, we have made multiple arrests tonight," a Portland police spokesman told Reuters news agency in an emailed statement after police declared the gathering was "unlawful".
"Officers will continue to make targeted arrests of those who fail to adhere to this order," police said earlier on Twitter.
One interesting moment came while the police were trying to clear the area around the building.
A police officer shot pepper balls at the backside of an Antifa black bloc rioter near the police union hall. The police recover a baton or stick from the ground a few moments later.
Video from the moment below:
Portland Police shoot pepper balls at the backside of an antifa black bloc rioter near the police union hall. Police recover a baton or stick from the ground. #PortlandRiots pic.twitter.com/kRgncQkIho

— Andy Ngô (@MrAndyNgo) September 5, 2020
Officials in suburban counties refused a call from Gov. Kate Brown, a Democrat, for their deputies to assist Portland police following last weekend's violence.
"The worst-case scenario is that there's another incident and it just touches off so much that the city just can't survive it very well," said Ron Louie, a former suburban Portland police chief, author of a crisis negotiation book, and current Portland State University professor.
And Trump has stepped up threats to send U.S. agents back to the city, like his administration did in July — when agents brought in to stop attacks on a federal courthouse and other U.S. property only reinvigorated the protesters.
Thousands of demonstrators turned out nightly, with some hurling fireworks, rocks, ball bearings, and bottles at the agents. They responded with huge plumes of tear gas, rubber bullets, and flash-bang grenades that created chaotic, war zone-like scenes.