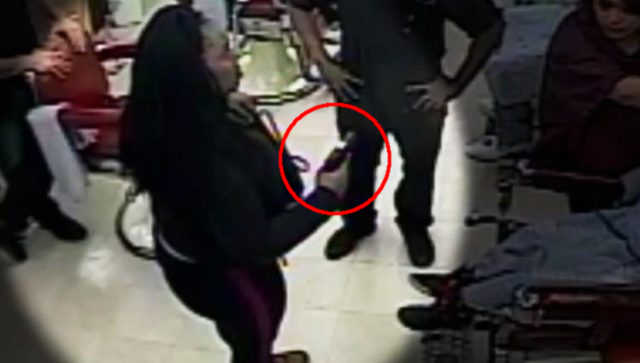 Nothing causes more outrage in the black community than hair.
An enraged woman was caught on video at the Allstate Barber College in Cleveland on April 14 pulling a gun on a hairstylist who was cutting her son's hair.
It is a barber school, so the haircut was very cheap, but this woman was still furious about something.
Recently there was an outrage over Bill O'Reilly's blasphemous joke comparing Maxine Waters' hair to James Brown's hair.
"I didn't hear a word she said. I was looking at the James Brown wig," said O'Reilly of Water's hair.
You would think what O'Reilly said was the most racist thing uttered in all of human history.
It seems black people's hair is a huge trigger.
Fox News reports:
Cleveland police released video of a woman they say pulled a gun on a barber because her 7-year-old son's haircut was taking too long.
"I got two clips. I'll pop you," the woman is heard telling her son's barber, a student at the Allstate Barber College, where the incident took place on April 14, Fox 32 Chicago reported on Friday.
Cleveland police are now looking for the woman.
They say the woman pulled the weapon after complaining several times about how long it was taking to cut her son's hair.
"When she pulled out her gun she said, I'm allowed to carry a concealed weapon, I have a license to carry, but then one of the other students said there's no need to bring it out," Marilyn Medina, an instructor at the shop, told WEWS-TV.
The station reported that the woman put the gun away, got her son after his haircut was finished, and left the shop quickly.
Medina said she still can't believe what happened.
"For a $6 haircut? You're doing all this?" she told the station. "I was afraid. You never know the intention she had, if she was really going to shoot, if she was really going to do something."
Watch the video:
MOM PULLS GUN OVER HAIRCUT: A woman in Ohio pulled out a gun because her son's $6 haircut was taking too long. Yes, seriously. Fortunately, no one was hurt. bit.ly/2oHwODl

Posted by Fox 32 Chicago on Friday, April 28, 2017
Black Hair Matters! Join the cause!
Scroll down to leave a comment below.